*音声はこちらからも聞けます。
III. SUMMER OF LOVE
The month of June ushers in Summer. The longest day of the year is June 21st, and it's the first day of summer, right? We tend to associate summer with love. But also, self-love and being honest with yourself are equally important if we want to enter into a successful relationship. Why am I saying all this? Well, because June is Pride Month. All month-long, New York City plays host to a ton of parties and gatherings that culminate in the June 30th Pride March. The Pride March commemorates the birth of the gay-rights movement. So the theme of today's episode is "awareness."
usher in  案内して通す、先触れをする、到来を告げる
play host to ~ ~を主催する、歓待する culminate  最高点に達する  commemorate 記念する、祝う
一年で最も昼の長いのが6月21日で、夏の始まりを告げる日ですよね。私たちは夏を愛と結び付けがちです。でも、関係をうまく保ちたいなら、自己愛(自分に誇りを持ち)、そして自分自身に正直であることも大切です。どうしてこんなことを言っているかというと、6月はプライド月間だからです。1か月の間、ニューヨークでは非常に多くのパーティーや集まりが開かれますが、6月30日(6月最終日曜日)のプライド・マーチでクライマックスを迎えます。この行進はゲイ・ライツ・ムーブメントの誕生を記念したものです。
そんな訳で今日のエピソードのテーマは「気づき」です。
*ゲイ・プライド(英語: gay pride)またはLGBTプライド(英語: LGBT pride)は、レズビアン、ゲイ、バイセクシャル、トランスジェンダー(LGBT)の人々が自己の性的指向や性自認に誇りを持つべきとする概念を表す言葉である。(出典ウィキペディア)
*ゲイ・ライツ・ムーブメント  ホモセクシュアルを差別したり、違法とした法律の撤廃を掲げ、その人権拡大、市民権獲得を求める運動。(出典 知恵蔵)
IV. June becomes Pride Month in NYC and around the world
Gay Pride events are scheduled all through June, culminating with the annual New York City Pride March. This year's march will happen on Sunday, June 30th. It starts at noon. I put in some links to events to give you an idea of how much is going on. As corporations have jumped on the bandwagon, pride has become like Christmas — a holiday every celebrates but isn't sure why they are celebrating. And now all of a sudden every politician and company wants to rally behind it.
jump on the bandwagon 時流に乗る、はやりに乗る  rally behind ~ ~を一致して支持する
6月の間中、様々なゲイ・プライドの行事が続きますが、最高潮に達する最大の行事が恒例のニューヨーク市プライド・マーチです。今年のマーチは6月30日、正午にスタートします。どんなに盛大に行われるのかお伝えするために関連リンクを載せておきます。企業も時代の流れに乗り、プライドはクリスマスのようです。理由はよくわからないが、とにかくみんなで祝福する日になっています。そして、政治家や企業も一斉に支持する姿勢をアピールしています。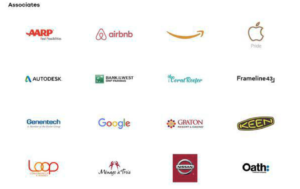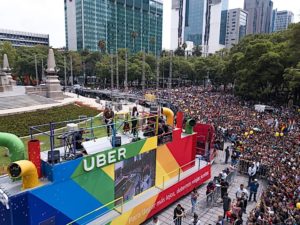 Ⅴ. Past vs. Present
For the longest time in mainstream American society, if a person was lesbian, gay, bisexual, or transgender, it was considered a sin; illegal; shameful; or something to hide at all costs. There is still a lot of progress to be made in terms of equality. The good news is: Americans are becoming more accepting in their views of LGBT people and homosexuality in general, and the number of people identifying as LGBT has grown in recent years.
mainstream  主流 at all costs 何としてでも、どんな犠牲を払っても                                                                                        in terms of ~ ~に関して、~の観点から見ると
長い間アメリカ社会では、レズビアン、ゲイ、バイセクシャル、トランスジェンダーであることは、罪、違法、恥ずべきこと、何としてでも隠すべきことでした。平等という観点から言うとまだ遅れている面はありますが、うれしいことに、人々はLGBTである人々をより受け入れるようになっているし、自分をLGBTであるとみなしている人々の数は近年増加しています。
According to a Pew Research Center survey on the issue conducted in March 2019, here's how much things have changed:Around four-in-ten U.S. adults (37%) favored allowing gays and lesbians to wed in 2009, a share that rose to 62% in 2017. The U.S. is among 29 countries and jurisdictions that allow gay and lesbian couples to wed. As far as New York City concerned, it's impossible to imagine our City without LGBT, queer and drag culture. It's central to our identity.      countries and jurisdictions  国または管轄区域  
2019年に行われたピュー・リサーチセンターの調査によると、どんなに大きく変化したかがわかります。2009年にアメリカで同性婚に賛成の人は37パーセントでしたが、2017年には62パーセントにまで上がっています。アメリカは同性婚を認めている29か国のうちのひとつです。ニューヨーク市に関して言えば、LGBT, クィア、ドラァグ(クィーン)カルチャーなしのこの街は考えられません。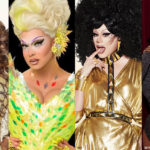 * drag queen  語源は諸説あるが、スカートを「引きずる」(drag)からきているというのが最も一般的である。 
世界中で大人気、ドラァグ・クイーンとは!
Ⅵ. Stonewall: A pivotal moment in history
There was a time not long ago, when New York City was also very hostile to LGBTQIA+ people. So, historically, there has been a struggle for LGBT rights in much the same way as Civil Rights. Important to note: This year marks the 50th year since the Stonewall Riots. A pivotal moment in history… The Stonewall Inn is a gay bar in Greenwich Village. During the 1950s and '60s the cops would regularly harass gays and any businesses where gays and lesbians congregated. Then in 1969, the customers fought back. The Stonewall riots became a series of violent demonstrations by members of the gay community against the routine police raids that took advantage of fringe businesses and vulnerable populations in the city during that era. I put a link to a timeline of the gay rights movement in the show notes. You might be surprised to find how much progress has been achieved in such a short time.
pivotal  中枢の、極めて重要な  raid   奇襲、(警察の)手入れ       fringe  付加的な                  vulnerable  攻撃されやすい、傷つきやすい
それほど昔ではないのですが、ニューヨークもまたLGBTQIA+の人々に敵対的な時代がありました。それで、歴史的には公民権運動においてアフリカ系アメリカ人自分たちの権利を要求するのとほとんど同じように苦闘が続いているのです。今年はストーンウォールの反乱から50年という節目の年です。ストーンウォールインはグリニッジヴィレッジにあるゲイバーでした。1950年代、60年代は警官がゲイ、レズビアンが集まるビジネスに対し、不当に手入れを行っていました。1969年ついに反乱がおきました。その後、ゲイコミュニティーのメンバーにより、当時の警官による日常的な手入れに対する一連の暴動へと発展しました。関連リンクを載せておきます。その後ゲイの権利を求める運動が急速に高まったことがわかると思います。
Local news coverage: https://youtu.be/2SVSWRoY6x0
"NYPD motorcycle cops roaring past the site of the Stonewall uprising — not to attack homosexuals, but to help celebrate the movement that they inadvertently began that dark night five decades ago." NBC news' treatment of the event.
Full coverage of the 49th annual parade in 2018 courtesy of NYC Office of the Mayor:
This video has great commentary and shows a lot of the parade. Enjoy! Shows people talking about the 50th coming up.
NYC's 50th Anniversary Gay Pride Parade / March
*公民権運動——-主に1950年代から1960年代にかけて、アメリカの黒人(アフリカ系アメリカ人)が、公民権の適用と人種差別の解消を求めて行った運動。
Ⅶ. Symbols: The Rainbow Flag
The rainbow flag, commonly known as the gay pride flag or LGBT pride flag, is a symbol of lesbian, gay, bisexual and transgender pride. It is also the symbol of a social movement. The colors reflect the diversity of the LGBT community. The flag has been used historically as a symbol of peace.
But since the flag is often used as a symbol of gay pride during LGBT rights marches, it has become synonymous with gay pride, or for businesses and establishments to signal they are gay-friendly or LGBTQIA+ -friendly. This Sunday, June 30th, the weather might hit us with a thunder shower, but we expect millions to show out. I'm sure a little rain on this parade can't wash it out. (LOL)  synonymous  同義語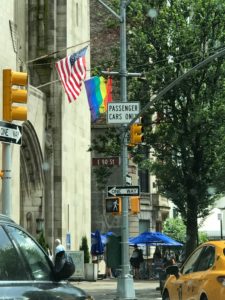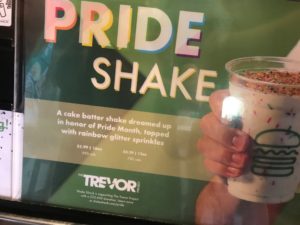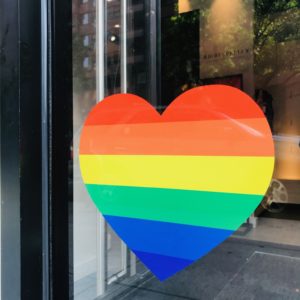 レインボーフラッグは一般的にゲイプライド、LGBTプライドの旗として知られています。旗の色はLGBTコミュニティの多様性をあらわしています。歴史的には平和の象徴として使われてきました。しかし、LGBTの 権利を要求する行進の象徴として使われているので、この旗はゲイプライドを表し、また、企業、団体が自分たちはゲイ・フレンドリーであると示すのにも使われるようになっています。今度の日曜日、6月30日は天気予報では雷雨になるかもしれません。でも何百人もの人が参加すると思います。少しの雨くらいでは虹を消すことはできませんよね。(笑)
Ⅷ.  Words in Focus:
LGBT+ is an initialism that stands for lesbian, gay, bisexual, and transgender.
It is a term that has been in use since the 1990s.
The LGBT Community uses many acronyms in various presentations or discussions to describe the community. Using this acronym is meant to be inclusive to all the diverse sexual and gender identities. Honestly, it can be confusing for most people.    acronym 頭字語     inclusive  包括的な
LGBTプラスという用語は1990年代から使われている用語です。LGBTコミュニティーはこのような頭字語を使った言葉を多用してきました。LGBTプラスという言葉はあらゆる多様性に対して包括的です。「+」は他にも様々なセクシャリティがあることを意味するのです。
Parade vs. March
Bear in mind, the Pride event is a march, not a parade.
Closeted or in the closet — to hide the fact that you are gay / bi / queer ゲイ、バイ、クィアであることを隠すこと
Out / To come out — to reveal to your family, neighbors and public that you are LGBTQ+. LGBTQ+であると明かすこと。
*LGBTQ+の Qは Queer/ Questioning のことです。 queerは元々は「風変りな」という意味ですが、Q が加わることで、枠組みを「決めない」、より包括的な意味になるのです。次のサイトにわかりやすい説明がありますよ。
LGBTQ+のQって何? ~実はよく知らないクエスチョニング・クィア~
Note, National Coming Out Day is on October 11.
Pride – short for gay pride. For culture's that value humbleness, it might seem hard to understand. "Pride" in this sense is used basically in place of "equality."
There's more to say and share, but I'll leave it here for now. Subscribe or visit our website to get the full download.
I – Intersex. Intersex is when a person has an indeterminate mix of primary and secondary sex characteristics.
T – Trans. Trans is an umbrella term for transgender and transsexual people.
G – Gay. Gay is a term used to refer to homosexuality, a homosexual person, or a homosexual male.
If you're just learning about sexuality, gender, and all these other things, they can be a little hard to remember.
Ⅸ. OUTRO
Until next time, bye for now!NOTES:
We've updated the show's format. We think you'll find it easier to follow. Also, we are moving to a membership model. Now you can support the show on Patreon. If you want the English-only version of the podcast, scripts, Bounce to the Vocab and special members-only content for teachers and students, please click the SUPPORT link in the show notes.
○○○○○ NYC街歩き○○○○○
ブログトップの写真(レインボー・フラッグを掲げている壮麗な建物)は、クーパーヒューイット・スミソニアン・デザインミュージアム (Cooper Hewitt, Smithsonian Design Museum) です。アメリカの鉄鋼王、アンドリュー・カーネギーが1903年に建築した邸宅の一部分がミュージアムになっています。重厚な内装も一見の価値ありですが、特別展も毎回工夫されていて、ポップな作品、斬新な作品も見ることができます。インテリアや雑貨、デザイン、ファッションに興味がある人や子供も楽しめるミュージアムです。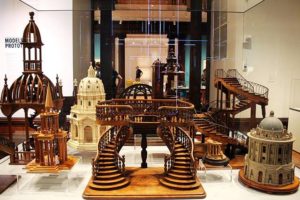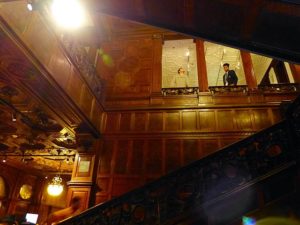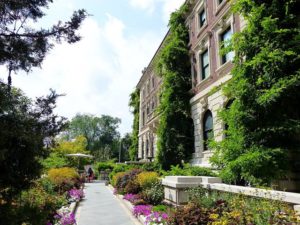 LINKS
https://lgbtrc.usc.edu/education/terminology/
https://bushwickdaily.com/bushwick/categories/arts-and-culture/6145-a-new-trans-non-binary-sitcom-shot-in-bushwick-airs-this-week
https://www.nytimes.com/2015/06/27/us/supreme-court-same-sex-marriage.html
https://bushwickdaily.com/bushwick/categories/community/5836-open-flame-brings-an-inclusive-lgbt-open-mic-to-bushwick
https://bushwickdaily.com/bushwick/categories/guides/6119-bushwick-s-official-2019-pride-guide
https://www.nycpride.org/about/
VOCABULARY
non-binary    queer     straight    gay    pride    binary
https://www.cnn.com/2015/06/19/us/lgbt-rights-milestones-fast-facts/index.html
https://www.pewresearch.org/fact-tank/2017/06/13/5-key-findings-about-lgbt-americans/
https://www.pewresearch.org/fact-tank/2019/06/24/same-sex-marriage/
https://2019-worldpride-stonewall50.nycpride.org/events
All right. Thank you for listening and taking time to enjoy our podcast. This show is independently produced and we welcome your feedback and support. If you like what you hear, hit that Like button, shoot us a review, and get subscribed.